FOMO Shopify Apps Compared [Top 5]
FOMO notifications have become a familiar part of shopping online.
Every time you visit an ecommerce site or book a holiday, you see pop-ups and text warning you that something is "selling out fast".
These messages increase sales, bring a website to life, and tell consumers which items are the most popular.
Unfortunately, not every business has the technical resources to add these features to their website.
FOMO notification apps are simple programmes that a business can add to their website. Simply by activating a plugin or inserting a small piece of code into their webpage's head tag, any marketer can use FOMO to engage customers and increase conversions.
---
What is FOMO?
FOMO (the Fear of Missing Out) is the emotion we feel when we are excluded from an event or a new experience.
Because of the internet, and particularly social media, the anxiety and disappointment that comes with missing out has become a much more significant part of our daily lives. At the same time, businesses have begun to incorporate these feelings into their marketing.
---
FOMO in Marketing
FOMO marketing is a simple strategy used by popular events and booking websites to increase demand. By carefully limiting the availability of tickets, events like Glastonbury Festival manage to sell out every year. Similarly, it's common to see messages like these on booking websites….
So, although the experience of FOMO is nothing new, the techniques used to create it are becoming more sophisticated. One of the simplest ways to add FOMO to a business website is with FOMO notifications.
---
Do They Work?
It is difficult to attribute sales to a Social Proof or FOMO app. Unlike pop-ups, which have a button or a form to interact with, notifications are usually there to give the reader some extra information. Most of the time, a notification won't have a link or an event that can be traced, so there is no click-trail telling marketers that a sale came from a particular message.
However, some websites have measured the impact of FOMO notifications on their conversion rate by running A/B tests. In a number of cases, these websites have identified significant Uplift on pages with the notifications.
For example, the popular bathroom fittings supplier Victorian Plumbing uses "Recently Viewed" and "Recently Purchased" notifications on its product pages. These features were added in 2017 and the company was able to attribute an additional 411 orders to them through A/B testing – that amounts to a conversion rate Uplift of 2.41%.
Similarly, UK retail websites such as Oasis and Hotter have seen Uplifts of 4.7% and 6% respectively, by adding simple FOMO messages on their product pages. In both cases, the messages contain nothing more complicated than the number of recent views and sales.
Whilst these case studies do not necessarily mean that notifications will improve conversion rates for every website, they show that this kind of information can have a noticeable impact on sales. With that in mind, here are the top 5 FOMO notification apps for business websites.
---
The Top 5 FOMO Notification Apps For Your Website
These are the 5 best apps for FOMO notifications in 2020. The list takes into account the number of different styles, integrations and features available with each app, as well as the pricing. Let's review some fomo app Shopify.
---
Pricing: $0.99/month (10,000 visitors), $29/month (Unlimited visitors)
Shopify App? Yes – 4.5 Stars – additional free plan, $9-89/month
Free trial? Yes – 7 days
What makes Nudgify special?
Nudgify is more than just a Social Proof or Fomo app. It offers a range of notifications, going beyond the usual sales and page-views notifications.
The Nudges themselves are sleek and stylish, and they can be easily tailored to any website. Not only are the pricing plans remarkable, allowing for unlimited visitors from just $29 a month, but the Shopify app is the only one of its kind that is truly native to the platform.
---
Pricing: $66/month (10,000 unique visitors), $108/month (50,000 unique visitors), $166/month (100,000 unique visitors)
Shopify App? No, limited integration
Free Trial? Yes – 14 days
What Makes UseProof Special? Useproof is one of the most popular Social Proof apps, and is used by over 20,000 different websites. The app comes with lots of standard features, including A/B testing to help you measure the impact of your notifications.
---
Pricing: $29/month (if you make less than $50,000 a month), $99/month ($50-200,000/month)
Shopfy App? Yes – 4.9 Stars – Additional "Small" plan at $9/month
Free Trial? Yes – 30 days
What Makes Fera Special? Fera has a fantastic range of different notifications, styles and page elements, so you can try a lot of different approaches. It also combines a wider range of analytics than most of the other options, including A/B testing, audience segmentation, and a customer journey map.
---
Pricing: $19/month (25,000 notifications), $39/month (50,000 notifications), $79/month (250,000 notifications)
Shopify App? Yes – 4.8 Stars – alternative pricing structure
Free Trial? Yes – 14 days
What makes FOMO special? FOMO has a fantastic number of integrations with different kinds of eCommerce software. That means you can show FOMO notifications relating to all kinds of customer activity. The app is powered by machine learning, and optimises your messaging strategy to increase your conversion rate.
---
Pricing: prices not available.
Native Shopify App? No
Free Trial? No
What Makes Taggstar Special? Taggstar is well-known for its partnerships with high-street brand names. The app offers a tried-and-trusted service for enterprise customers, including custom CSS styles to suit their brand.
---
Pricing: $9/month 
Shopify App? Yes – 5 Stars
Free Trial? Yes – 14 days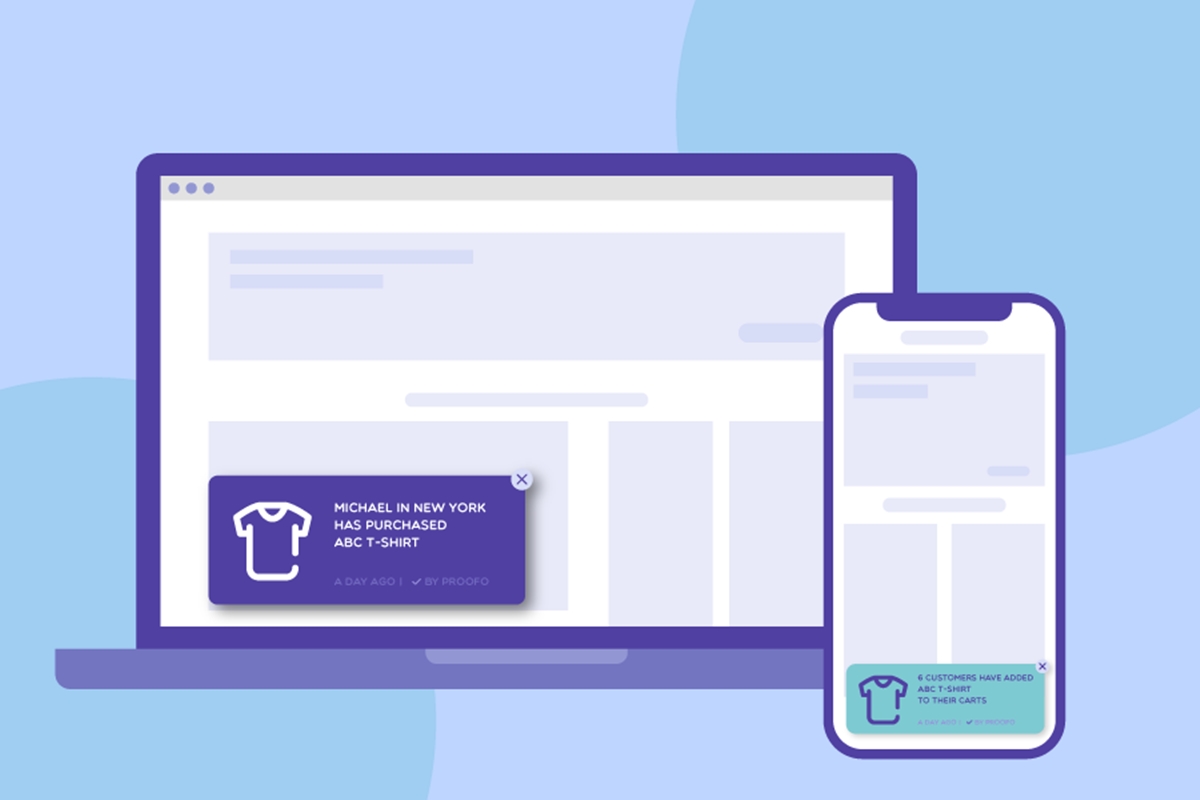 What Makes Social Proof Special? The photo reviews feature has proved a great way for Shopify store owners to collect picture testimonials. This UGC content helps get visitors over the finish line and convert more people to buyers.
---
FOMO Shopify
One of the most important aspects of both Social Proof and FOMO marketing is the trust that viewers have in the information they see. Since the introduction of FOMO and Social Proof apps to Shopify and the wider eCommerce world, there have been examples of companies using fake data to create the effects. That's a problem for consumers and businesses…
---
Why is fake FOMO a problem? 
Whilst FOMO notifications can have a big impact on sales figures, there's another metric that is far more important for your business: customer lifetime value. As the most recent Wolfgang Digital KPI Report showed, the best predictor for the increase in an online business's conversion rate, as well as their overall revenue, is the number of customers who return to make another purchase. In other words, your first priority should be providing real value to your customers.
If your customers lose trust in the information they get from your website, your conversion rate will plummet. You would also be missing out on valuable returning traffic. That's why it's important to use an app that only uses real data to create your notifications.
---
Author: Stephen Courtney
Stephen is a CRO for Convertize, a digital marketing and software company that specialises in consumer behaviour